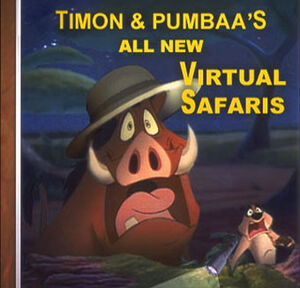 The newest 3-D attraction where you can travel through safari with Timon and Pumbaa from "The Lion King". It's location in
Florida
at
Disney's Animal Kingdom
.
While they're waiting in line, there were some clips from The Lion King's Timon and Pumbaa from the tv shows. Before they enter the ride, it shows Wild About Safety with Timon and Pumbaa on video safety. After the safety video, the people may enter the garage where it shows the jeep.
The ride begans here where it shows Timon and Pumbaa are in jeep to travel through the safari, such as Jungle Oasis, Pride Rock, and Meerkat Colony. Before they went to the next place, there was a stampede when the wildebeast were running through the gorge. After they got out, they enter to the Elephant Graveyard where the hyenas live such as Shenzi, Banzai, and Ed. They're chasing them and drove through the volcanic cave. When they got out, they splash down to the river and sending them back to the garage.
They went exit to the gift shop where all toys, clothes, and dvd was. At the outside of the building,
Ad blocker interference detected!
Wikia is a free-to-use site that makes money from advertising. We have a modified experience for viewers using ad blockers

Wikia is not accessible if you've made further modifications. Remove the custom ad blocker rule(s) and the page will load as expected.